Hi all! Long time no post! It's been a tremendously busy year, and I hope you're all staying warm and well approaching the holiday season; I just wanted to let you know about a couple of updates and upcoming events in my schedule.
Writer's Digest Historical Fiction Conference
Sun Dec 10th, 1:00pm • Online
I'm thrilled to announce that I'm going to be speaking at Writer's Digest University's Virtual Historical Fiction Conference! This is an awesome 3-day event that includes lectures on a variety of topics specific to writing historical fiction, including query letters, research tips, plotting and outlining, and (from yours truly!) how to incorporate queer characters into your historical writing. Plus, everything's on demand to watch later, too!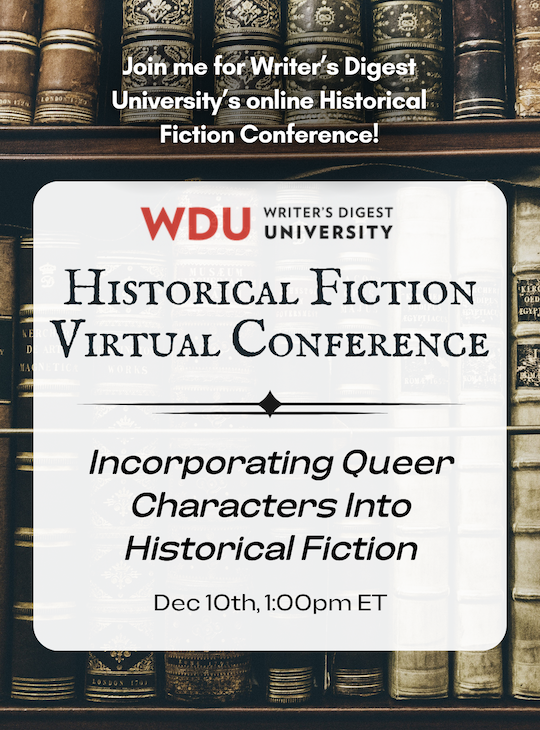 My own lecture will be on the topic of Incorporating Queer Characters into Historical Fiction. Join me for this awesome experience and buy your conference tickets now!
Arvon Historical Writing Course: Guest Reader
Wed Mar 13th, 2024 • The Hurst Writing Retreat, Shropshire
I'm very pleased to announce that I'm going to be a guest tutor for one of Arvon's residential writing courses: Historical Writing in Fiction and Poetry!

This course is going to be held at the beautiful Hurst retreat in Shropshire from Mar 11-16 2024, with amazing tutors Sean Lusk and Jo Bell. I'll be coming in as a guest on Wed evening to speak about Our Hideous Progeny and historical writing. 

To find out more about this wonderful program and reserve your spot, visit their website!
Updates & News
Firstly… the Our Hideous Progeny paperback is coming out in February! If you were waiting to buy it in PB, keep an eye out on your local bookstore shelves come Feb 1st… 🙂