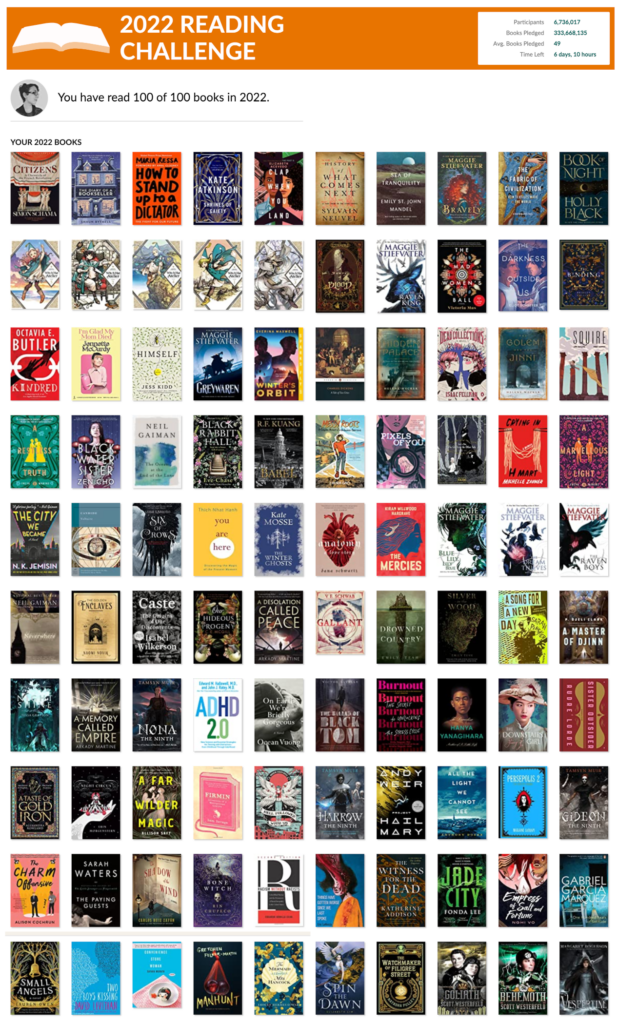 Happy New Year, everyone! Extra proud of myself today, because for the second year in a row I managed to hit my New Year's Resolution to read 100 books!
It was a bit of a struggle there towards, the end, but fortunately I'm firmly of the opinion that comics and graphic novels count as books (and… are considerably quicker to read than the non-graphic sort 😂). I also read about 2/3 of these as audiobooks, which is honestly my favourite way to read, because I can get chores done at the same time!
I'm so thankful that I actually had the time to reach this goal this year — I still vividly remember the grim days of college in which I hardly had the time to read anything at all besides the books I was required to read for classes. After I graduated and dove into writing nearly full-time, I read an interview with an author I admire in which she said that she'd read 100+ books a year since 2016 and had noticed a considerable improvement in her writing skill ever since.
I have a notoriously love-hate relationship with my own writing, so I can't say objectively whether devouring this many books has made my writing better, but I've definitely noticed an improvement in my motivation and creativity. It's almost as if writing too much in a short period of time drains my brain of words, and the best way to fill it back up again is to take a break to read!
Wishing you all a fabulous 2023, and don't forget — my debut novel, Our Hideous Progeny, comes out in May! You can read more about my weird, queer, Gothic baby on Goodreads or pre-order it wherever books are found.
— CEM